The Business & Financial Systems Department falls under the Associate Vice President's Office for the Business & Financial Affairs Division at Western.
Prior to its formation in December of 2009, the functional support for the University's various business & financial systems was scattered around different departments with minimal collaboration. The focus of that support system was more on day-to-day analysis of needed reports and fixes without a unified vision or direction.
Since 2010, under the leadership of the VP and AVP Offices, most of the IT support analysts within the BFA division have been consolidated into Business & Financial Systems. This consolidation is part of a strategic IT personnel reorganization within BFA to improve customer support on campus.  This new structure strengthens the Business & Financial Systems team by leveraging our knowledge and skills in process analysis, problem-solving, coordination of upgrades with Enterprise Applications Support Team (EAS) and cross-functional groups, and implementation of new features and systems.  End-to-end functional system support for Banner Accounting, Accounts Payable, Budgeting, ESM eProcurement, Finance, General Accounts Receivable (Loans & Collections), HR/Payroll, Public Safety and T2 Parking Systems, Purchasing, Student Accounts Receivable, and Travel Expense Management (TEM) are now together in one team.
Since 2009, the team has grown from that singular focus to an analytical and project-driven approach, working side by side with our business owners to deliver best in class business processes. The department focuses in three key areas and integrated with each other in a seamless manner.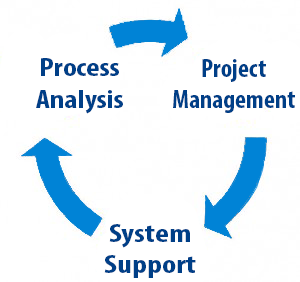 These key areas within Business & Financial Systems work closely together and leverage each other's strength and expertise to provide our business owners and end-users with the best customer service and support. The team continues to follow the vision and direction of the BFA and AVP offices to improve our business processes with new technologies.