There are 1 in 5 people who experience mental illness in their lifetime. However, everyone experiences challenges and situations that can impact their mental health. The goal of mental health month is to spread awareness about the tools individuals can use to improve their mental health. 
Mental Health Facts
1 in 5 adults in America experience a mental illness.

 

Nearly 1 in 25 (10 million) adults in America live with a serious mental illness.

 

One-half of all chronic mental illness begins by the age of 14; three-quarters by the age of 24.

 

Approximately 10.2 million adults have co-occurring mental health and addiction disorders.

 
Mental Health Solutions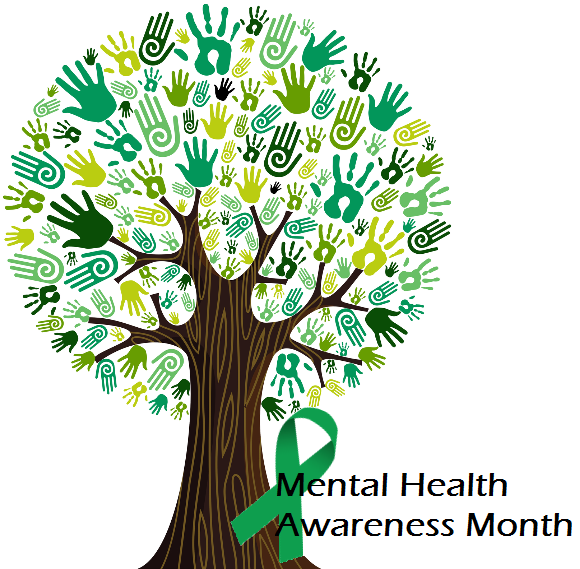 It has been shown that small changes in daily habits and routines can have a significant impact in improving mental health. Mental Health Month aims to spread awareness and encourage the implementation of changes such as: 
Improving Physical Health:

 Maintain uninterrupted sleep for 8 hours each night, avoid sugars, greasy foods, salts, processed foods and saturated fats, consume more whole grains, greens, unprocessed foods, lean meats and unsaturated fats, eat 2-3 well-balanced meals per day, drink at least 3 liters of water per day, consume natural probiotics such as yogurt, miso, sauerkraut, kefir, and kimchi, engage in a physical for at least 30 minutes a day.

 

Improving Mental Wellbeing:

 

Stay away from toxic thoughts, toxic people, and toxic conversations

, e

ngage in positive thoughts and conversations

, p

ractice 

mindfulness

 or 

meditation

 on a daily basis

, l

earn how to manage your 

stress

.

 

Improving Social Wellbeing:

 

Stay present in your daily relationships

, a

void "

screen time

" and engage in more "in person time"

, take time for yourself every day.

 
Covid-19 and Mental Health
It is especially important to take care of mental health while staying at home, through taking breaks from the news, practicing healthy habits, and still finding ways to connect with others. Many are working from home, which can cause difficulty in motivation and performance. Utilizing resources for remote work can be helpful both for overall mental and physical health during the pandemic, as well as effective practices for working from home.
Get Involved
National Alliance on Mental Illness (NAMI) is an organization that holds the "You Are Not Alone" campaign for the duration of the month of May. The purpose is to help end the stigma around mental health and mental illnesses through encouraging individuals to read the stories of others as well as share their own stories and experiences with mental health. Throughout the month, the NAMI website features articles from different people to share what the "You Are Not Alone" campaign means to them.  
Resources
The Employee Assistance Program (EAP) is available to connect member employees to professional assistance to help with personal, family, and work issues. These services are often free of charge and offer counselors and specialists to help with issues such as stress, depression, substance abuse, financial concerns, and family issues. The Washington State Employee Assistance Program is free and confidential, and provides access to more than 90,000 public employees. The following resources are also available for help with mental health.
WA EAP's COVID-19 Resources page or contact the EAP for further support, at 1-877-313-4455
Substance Abuse and Mental Health Services Administration's (SAMHSA's) Disaster Distress Hotline: 1-800-985-5990 or text TalkWithUs to 66746.
People with deafness or hearing loss can use their preferred relay service to call 1-800-985-5990
Anxiety and Depression Association of America 
National Alliance on Mental Illness